Virtual Staging vs. Real Staging: What Fits Your Budget?
by Kyna Garrett, on Aug 15, 2019 9:00:00 AM
It's the most wonderful time of the year! Ah yes, budget season.
For property management companies, that means setting objectives, targets and forecasts for the upcoming year. Budgets are a funny thing though - they're different for everyone.
Some property management companies have budgets that can stretch as far as the eye can see, while smaller companies have a limited marketing budget.
Thankfully in this industry, there can be some give and take. As you prepare your marketing budgets for your new developments and established properties, consider how apartment staging affects your bottom line.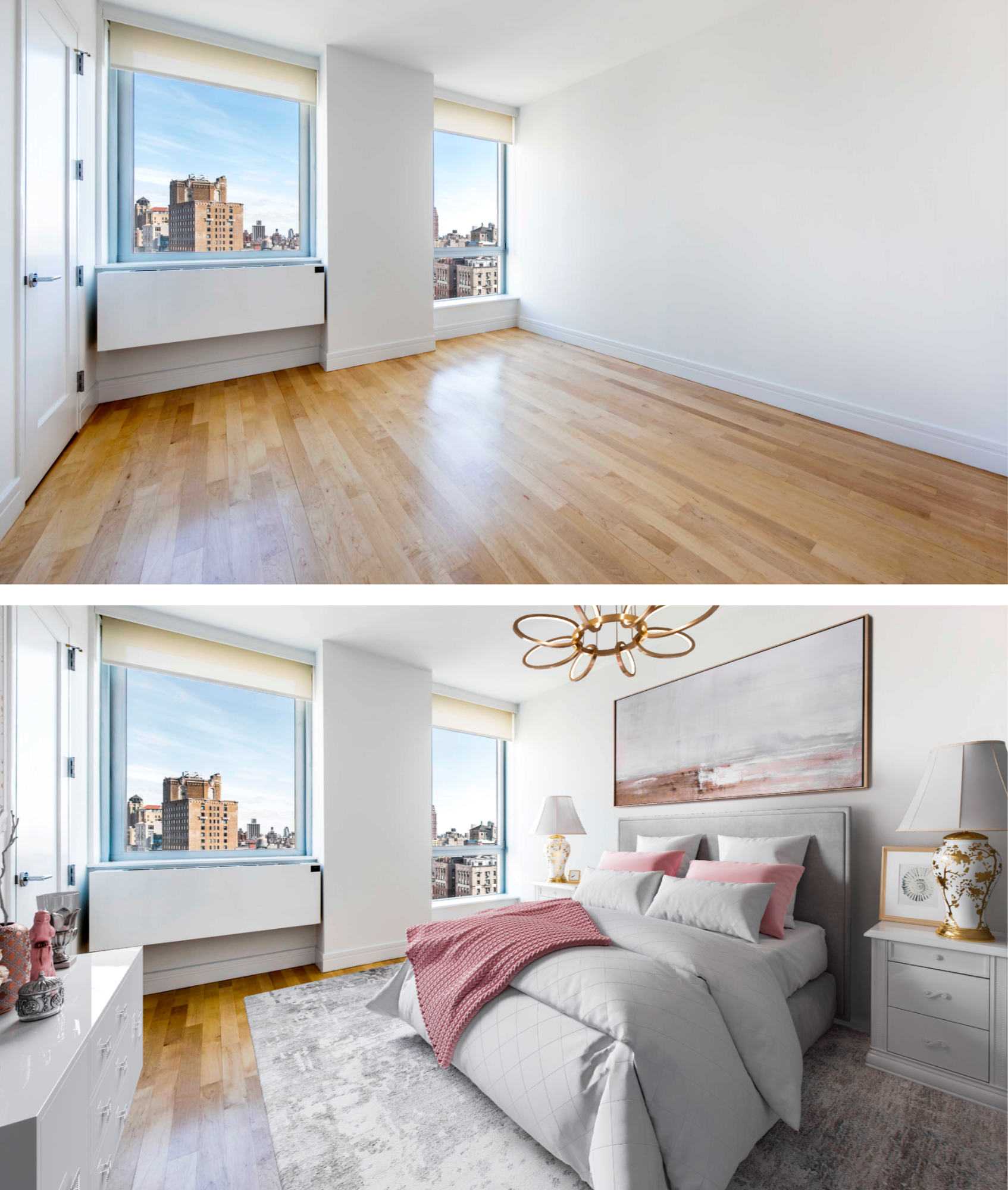 The Benefits of Staging an Empty Apartment
Apartment model staging is pretty much a standard procedure for multifamily or senior living communities. That's because… well, it works.
According to the National Association of Realtors, 81% of prospects find it easier to visualize the property as their future home when it is staged.
Giving a tour of an empty apartment doesn't result in the same impressive takeaways as a fully staged unit.
In most instances, the apartment a prospective renter is interested in is already occupied and sometimes all of those floor plans are unavailable to tour. No one wants to see a different version of where they may be living, let alone - something that feels cold and empty.
The same goes for apartment listing photos. Empty rooms in photographs can be hard to perceive space and square footage versus a bedroom that clearly shows a queen bed, two end tables and a dresser.
Many marketers have turned to virtual staging to cut down on traditional staging costs, especially when it comes to showcasing available apartments on listings.
The thing is, there are pros and cons to both virtual staging and real staging. What may work for one property's budget or needs, may not work for another's.
What follows is a breakdown of difference in cost and advantages and disadvantages as you decide which staging solution fits your budget.
Real Staging: Ideal for Larger Budgets
Real staging is almost a necessary strategy for any property management company. After all, there are a lot of dangers to giving a tour of an empty apartment unit.
Let's start with the basic benefits. A fully staged apartment unit:
Creates a great first impression
Helps make the space feel warmer
Helps renters see themselves living at your community
Can help make the space feel larger
For obvious reasons, showing off an empty unit just doesn't have the same great effects. That's why so many marketers turn to professional staging to furnish their models, just to liven up the space and attract more renters. Plus, these spaces can be photographed for listings so you aren't showing off occupied units that are messy and lived in.
Despite all these great benefits traditional staging provides, there are some cons that can come along with it. Like:
Time it takes to plan, strategize and consult with an interior designer
Time it takes to move furniture in and out of the space
Additional costs, such as consultation and upgraded furniture
Constant upkeep of the space; cleaning and rearranging
Again, this is why larger property companies can afford real staging. If you have a much larger team that can take on the load of consulting and maintaining the staged areas, a staged model unit has some pretty huge payoffs.
All right. Let's get into the nitty gritty.
How much does it cost to stage a model unit?
Well, that depends. In our research, we've found that staging a model unit can range from $7,000 a pop to a whopping $30,000. Whoa.
Of course, these price tags are dependent on several variables (where the property is located, how big the space is, what kind of style the property is going for, or how often furniture is swapped out).
For instance, communities in New York City are bound to pay higher costs for real estate staging than say, a community in a smaller town.
This is why typically property companies with big budgets are quick to say yes to actual staging. It's a strategy that works and will keep working. But what if you don't have a budget with deep pockets? Or perhaps you only manage or own a few communities and don't want to invest the time and effort into professional staging?
Marketers shell out thousands of dollars a year on furniture rental for model units. Those model units also suck quite a bit of money away, too. Units that sit vacant with pretty furniture are off the market and instead used as a sales tool to entice prospective renters. It works, but what if you could save those funds (and more) while enhancing your listings?
Let's talk virtual staging.
Virtual Staging: Get More For Your Money
First, let's begin with what virtual staging is exactly.
Virtual staging in real estate is the process of adding digital furniture, decor and other elements to a photo of an empty room. Typically, 3D artists will work with marketers or regional property managers to determine the best style and mood of the space.
Virtual staging is still fairly new in the real estate industry. Because it's newer, some management companies hesitate to give it a go, but for those with tighter budgets, it can be a huge cost saver.
It has plenty of benefits, too, some of which it shares with traditional staging:
Improved apartment listings with staged photographs
Helps photos feel warmer and inviting
Helps prospective renters get excited about their new home
Gives great detail about the space and what can fit in the unit
In addition to these advantages, there are even more benefits you can reap from this strategy:
Turn model units into apartments you can actually rent out
You can take creative liberties on the furniture used
No consultation fees or long weeks of preparation required
No need to move furniture in and out of your community
You can swap out digital furniture as needed for a small fee to upgrade your photos
So, virtual staging sounds pretty great, doesn't it? It does have a lot of perks, but remember, investing in virtual staging means some give and take. This would most likely mean forgoing any real staging, so any in-person tours would require showing off an empty room. That isn't such a bad thing if you leverage your virtually staged photos correctly (marketing material, website, screens in your lobby).
One thing must be kept in mind with virtual staging: you never want to deceive your audience or virtually stage with unrealistic elements that look clunky and unprofessional. You also never want to change wall features or flooring features just to enhance the photo and "trick" renters. The goal is to digitally stage a photo and make it almost indiscernible from real staging without deceiving your audience.
How much does virtual staging cost?
To put it simply, virtual staging can range anywhere from $75-$300. And as with anything in life goes: you get what you pay for. You'll pay a higher premium for photorealistic virtual staging (versus cartoonish furniture).
For 360 virtual staging, you're looking at a bit more but in comparison to what multifamily or senior living providers pay for staging - it's eye-opening.
Virtual staging is a dream for property management companies. Here's why:
It is only a one-time fee for each photo
There are no consultation fees as you would have with real staging
You collect the rent payment on model units that would otherwise sit vacant
Your time and resources aren't spent on consulting or maintaining model units
Virtual staging statistics tell us that it can reduce the cost of staging by up to 97%. That is huge.
That's also why virtual staging is much more appealing for smaller budgets. You save money in more ways than one. You save on costs associated with traditional staging and you also keep all of your units on the market to increase rental income.
Virtual staging truly is the best of both worlds.
Find the Staging Solution That Works For You
After analyzing the costs and advantages (and disadvantages) of both virtual staging and real staging, you should have a clearer understanding of what should fit your budget.
Let's just make one thing clear: cutting corners to stretch your budget further isn't always the best approach. In the beginning of this article, we mentioned that what might work for one community may not work for another. Everyone has different budgets and goals. Analyze yours during this crucial budget season and find what works best for your marketing strategy.