Modern Apartment Model Staging: Why You Could Use Virtual Staging
by Kyna Garrett, on May 10, 2019 9:00:00 AM
Staging an apartment is a must whenever you are marketing a community. Without it, you're simply showing a blank canvas to prospects when you could be using a unique staging strategy to reel in qualified renters.
According to The Mortgage Reports, staging a home can help sell it 73% faster. That's for a home - but what about apartment units?
Staging an apartment model surely has its benefits. From helping prospective tenants visualize the use of space to getting them excited about their future home, here are the top benefits to apartment model staging:
Time on market is shortened (reduced by 30-50%)
Increase in qualified prospects with stylized furnishings based on target audience
Help your community stand out in an increasingly competitive market
Increase relevant traffic from ads and listings
Generate higher and premium prices
Demonstrate use of space and inspire prospects
Highlight the best features of your units with decor and high-quality furnishings
The list goes on. There is a clear return when staging any apartment model, but traditional home staging comes with its flaws. To address such drawbacks, management companies are turning to virtual staging.
A Quick Look at the Effects of Virtual Staging
To demonstrate how impactful virtual apartment model staging can be, here are some before and afters of model units.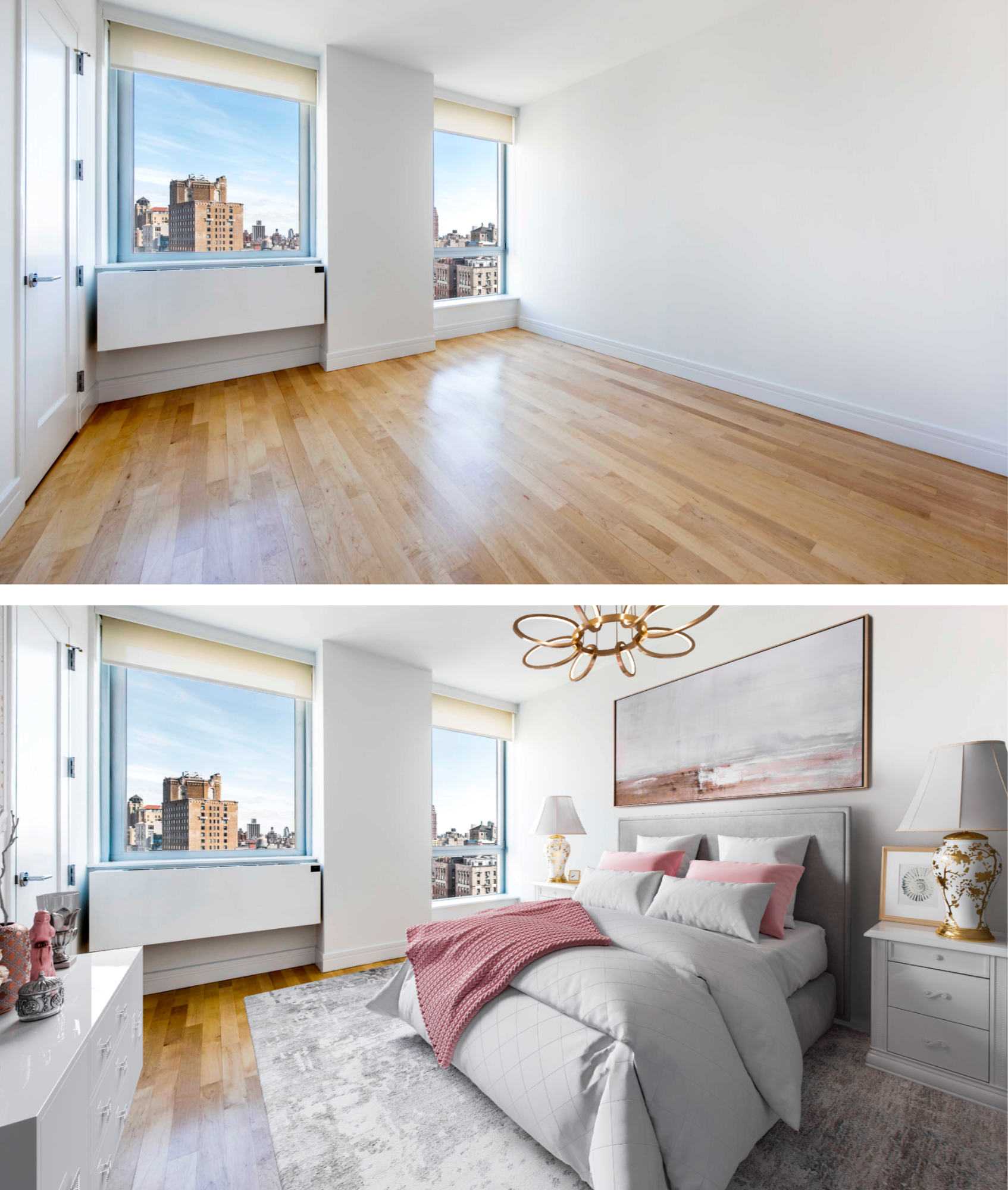 As you can see, staging a model unit virtually does not mean placing flat objects into a room for a nicer presentation. Virtual staging technology has become so advanced that 3D artists can create and place detailed furnishings and decor into a photo of an empty room. With precision, shadows and an architectural background, these rooms showcase photorealistic elements that appear authentic.
Explore more virtual staging examples.
The benefits of virtual staging run much deeper than an extremely well-designed apartment model.
What follows is a comprehensive breakdown of why apartment communities can benefit immensely from virtual staging compared to traditional apartment model staging.
If You Furnish It, They Will Come
1. Increase return on investment
Let's start with the costs, shall we?
It may go without saying, but we'll say it anyway -- the more expensive the community (and neighborhood) the more costly it is to rent furniture and stage your models.
Now let's paint that picture a little clearer: you've invested money into renting furniture and staging a couple of your model units (perhaps a studio, a one bedroom and a two bedroom).
Your plan is to always use those three models to show to walk-ins and scheduled tours. The problem? Those three models aren't earning you any money. In fact, they're costing you -- double time.
First, you're renting that furniture. Secondly, those three units are "decommissioned," or in other words, not in use. You're not collecting monthly rental incomes and you're spending money on top of that.
But what if you could flip that script?
Virtual staging is a one-time deal. You pay to have empty photos of your model units (living room, bedroom, kitchen, etc.) and have a 3D artist design and place furniture in the empty space. You pay one time, and that's that. Your model units remain empty and become available for a tenant to move in.
Then, during tours, you show prospects empty model units and also show them your virtual staged units. That's the best of both worlds -- they see the space for what it is (empty) and a staged unit to understand the flow of space.
What's more, your virtual staged photos can be used on listings, ads and your website.
No unit is left unavailable for rent and your return increases.
On top of making money with those now available model units, virtual staging is a lot more affordable than traditional staging. According to Realtor.com, most stagers charge $300-$600 for an initial design consultation. That's more than what it would cost for a standard virtual staged room - and let's not forget, there's no consultation cost with virtual staging.
You're saving money, and making money. It's a win-win.
2. Spend more time focusing on your potential renters
Leasing agents and property managers have a lot on their plates. From scheduling and touring to keeping current tenants happy, the job of a leasing agent or property manager can be demanding.
Virtual staging, however, is not. Traditional staging techniques require someone to consult with an interior designer, rent the furniture, schedule a staging time, be there to accept the furniture, clean the model units regularly, and then (on occasion) swap out the rented furniture to keep model units updated and on target to the audience.
Thanks to virtual staging, that entire process is eliminated. Instead, a management company or marketer can work with a 3D team to select (or photograph) the empty apartment model photos and virtually stage them.
That process can take anywhere from a few days to a couple of weeks depending on demand and how many photos require any staging. For traditional home staging, you're looking at at least three weeks minimum for the consultation and staging process. That's a lot of preparation and time waiting when you could be focusing on tenants and future renters (while also leasing out all of your model units).
3. Enjoy more creative freedom when catering to your audience
Lastly, virtual staging solutions offer your community a little more flexibility. You have a bit more creative freedom for a number of reasons:
You don't have to consult with an interior designer - the vision is purely your own
Virtual staging allows you the opportunity to see the furnished space and make adjustments during edits
You know your target audience and neighborhood better than anyone - you can work with a 3D team to execute just the right style and mood that fits your audience
You can choose to have multiple staged versions of your units to update marketing materials, listings and show multiple uses of the space.
What makes virtual staging so impactful is that target audiences can change and so can design trends. Virtual staging allows you to quickly adjust your model units with any design elements you please. The design is ultimately up to you and your team to attract only the most qualified leads to your community.
Stage Smart, Expect Big Returns
Virtual staging is still a somewhat new concept, but it's quickly evolved into a solution that addresses multiple needs for management companies in multifamily and senior living. Whether it's saving money, time or resources, virtual staging is sure to increase your return and make you a smart marketer for your community.
Want to take your apartment model staging to the next level? Contact us to learn more about our cost-effective virtual staging services.