18 Examples of Apartment Photos that Helped Lease Units Faster
by McKenna Hogan, on Sep 20, 2019 9:00:00 AM
Let's face it, with all of the new digital marketing technology out there right now, real estate photography may seem like small priority.
But we're here to tell you that is absolutely not true.
According to the Center for Realtor Development, high-quality photography sells 32% faster.
So what exactly grants the title of "high quality" when speaking about multifamily photography? High-quality photography can play a key role in your multifamily marketing efforts.
What follows is evidence that leveraging apartment photos can go a long way in your leasing strategy.
For starters, capture something that people are looking for
When you're leasing units, you get the opportunity to show off what's unique about your community. Of course, you want to show off your units and amenities - and that can get pricey. So ensure it's money well spent by picking out the essential areas of an apartment before scheduling a photo shoot.
For instance, research has shown that apartment renters are overwhelmingly searching for amenities in regards to specific units.
Because of this, it's important to capture the "extras" to your apartment community. Here's an example of photography that won Lincoln Military Housing an NCAA award in recent years.
Pools and outdoor areas are excellent spots to capture because they cater to exactly what modern apartment renters want to see.
Take a look at this drone photography that captures the exterior and amenities in just one shot.
In addition to amenities, furnished units have statistically shown to be desired during an apartment search.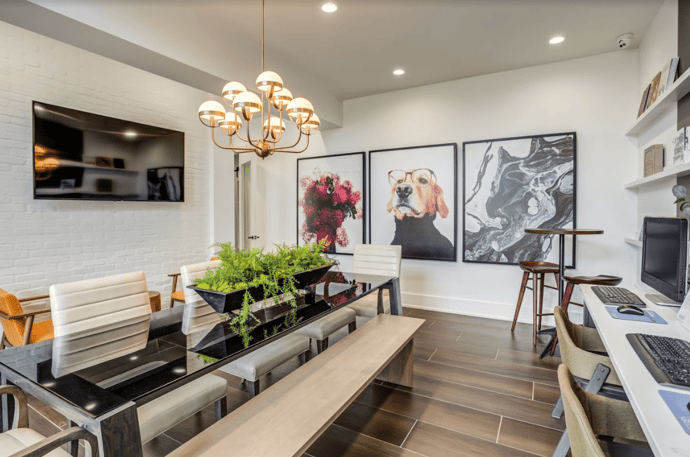 Whether real staging or virtual staging is used, examples of fully-furnished apartment photos help potential renters visualize a unit as their future home.
Find a unique angle
We know, this is universally known, but there's a reason for that. Finding angles that complement a space will help rooms, amenities and surrounding areas stand out and really draw the prospect in.
Finding the right position for a shot will only accentuate what your space has to offer.
Here are a few examples from The Preiss Company whose photographer found just the right angle to showcase these amazing rooms in the best light.
These are great examples of working everything into a shot, including amenities and decor, which requires less need to catch each individual area of a space since it pulls everything into one.
Here are a few examples of unfurnished interior shots that do the same: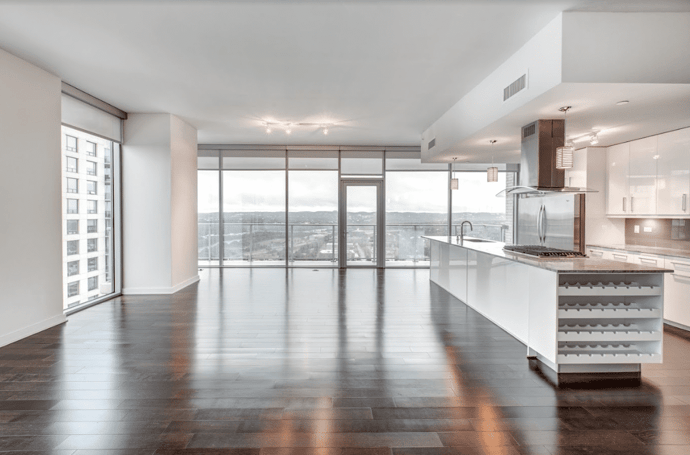 Even though this is a rather large kitchen/living room, the photographer managed to capture the entirety of it in just two photos.
Learn how to use your resources to find good lighting
There's a reason photography season is during the summertime and not dreary, stormy spring. Artificial lighting works, but natural lighting can have an unexpected - and often unique - impact on the presence of a room.
Although not always in our control, getting the perfect lighting for your space can transform the "mood" of a room, and give it a personality.
Here are a few examples of apartment photos from Lincoln Property that utilized natural light and time of day to showcase the same area in 3 different ways.
Here are some interior shots that utilized natural and artificial lighting to perfectly fit the room: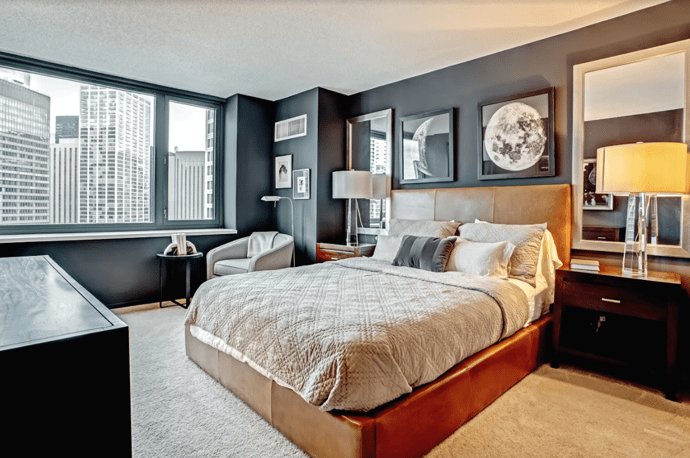 "Setting the mood" of a room, or playing with lighting can actually be super beneficial. Just like above when we talked about furnished apartments being more successful than cold, empty rooms, well-lit models can help set the right tone, too.
The whole point is for potential renters to be able to picture themselves living there. So not only is furniture important for portraying a real home, but lighting helps give it a personality while inciting a specific feeling towards onlookers.
In the end, it's all about what makes your community unique
Whether it's on your Google My Business listing, used for social media, posted on your website, or stretched across a billboard, documenting your apartment community through beautiful apartment photos is a timeless necessity.
Considering 87% of homebuyers who searched for a home on the internet found photos to be among the most useful features, they're proven to be the best - and easiest - way of showing off an apartment. So book that photo shoot and get the high-quality photography your community deserves!
For more information on resources, click here.