8 Iconic TV Show Residences that Could Have Used Digital Content
by McKenna Hogan, on Feb 10, 2020 8:30:00 AM
Let's face it, if some of our favorite TV show hangout spots were up for sale in 2020, their business listings would be, well, lacking.
Popular TV show sets in the past few decades have included everything from hospitals to hotels to city apartments.
Regardless of the type of place, some of our faves could have benefited greatly from some marketing technology in their hayday.
Below are 8 TV show residences that deserved some digital content - especially if they were going on the market to sell.
1. Friends - Monica's Apartment
Whether you have watched Friends or not, it's almost guaranteed you've seen an image or snippet of Monica's spacious NYC apartment (which her grandmother graciously let her sub-let).
If not (which I refuse to believe), go ahead and view the image below.
As you can see, there are few rooms - also rarely filmed in - like both bedrooms, the bathroom, and even Monica's "junk closet," which are pretty easy to spot in any given shot.
However, what's the deal with the exterior?
For example, we know they reside in New York City's Greenwich Village, but where is the location of the iconic loft in relation to Phoebe's place, the ugly naked guy's apartment that Ross eventually snagged, or even Central Perk?
2020 Friends needs to be put on the map.
Type of Content:
An updated Google Business listing with address and contact info for Central Perk
Exterior photography of all of the apartments and Central Perk for identification purposes
Drone videography of Greenwich Village for navigation (and to see all of the places the "friends" could have gone, but were too hung up on one specific coffee shop)
2. How I Met Your Mother - MacLaren's Pub
In How I Met Your Mother, MacLaren's Pub is the bar located directly under Ted and Marshall's apartment.
Although MacLaren's exists in real life -and has gained much celebrity thanks to the show- the hangout spot featured in the series was home to endless bad decisions and a reputation for rowdiness.
Between bar fights, overserved patrons, and literally any inappropriate thing Barney did as soon as he entered the establishment, it's a bit mind boggling that the place managed to stay in business (no doubt with a very sad Yelp review).
With that being said, TV show MacLaren's could've used a bit of a reputation boost - and what better way to do this than a stacked marketing strategy?
Type of Content:
An optimized business listing with high-quality interior and exterior photography
Updated Street View + contact info for an easier find
Some type of reputation management, like customer outreach or testimonials from the gang
3. Gilmore Girls - The Dragonfly Inn
Boutique hotels are all the rage these days, and that was no different in Stars Hallow.
The Dragonfly Inn, as you may or may not remember, was in an undesirable state when hotel partners Loralai Gilmore and Sookie St. James finally bought it. Overgrown with weeds and a porch that was damaged from years of neglect, the once thriving but now abandoned inn had little hope.
Hence why it definitely needed a real estate boost when the two women purchased and refurbished it.
Much of Stars Hallow was based around word of mouth which is a great way to market any business (and we all know how beloved Loralai is), but this boutique hotel still needed some help in the digital marketing department.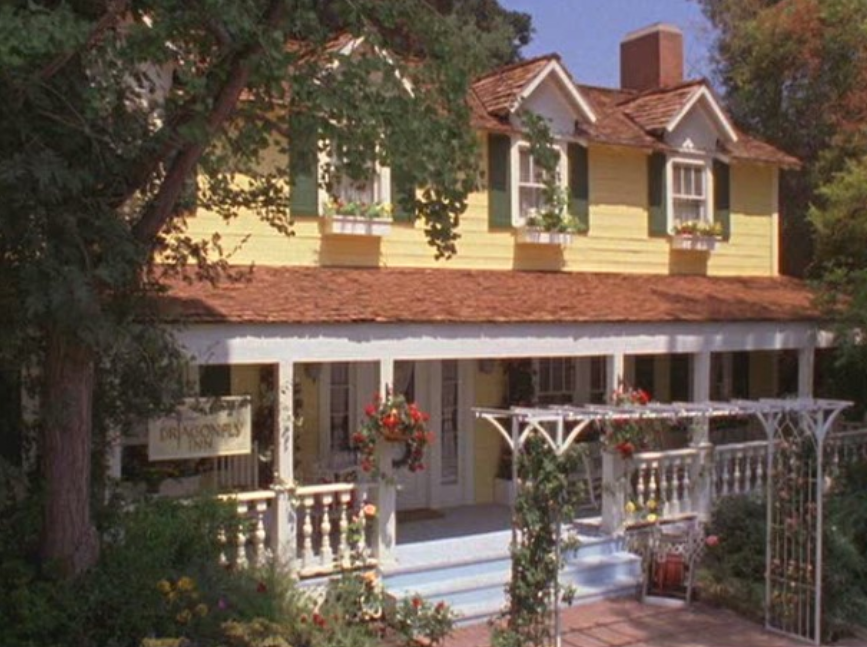 Type of Content:
Because much the time the inn was under construction, some 3D renderings could have come in handy to show of the upcoming hotel and amenity space
An optimized business listing with high-quality interior and exterior photography, showcasing the surrounding grounds and horse stables
A virtual tour to show off the space, dining room and guest room atmosphere (after all, the Dragonfly Inn doubled as a wedding venue at times!)
4. Grey's Anatomy - Seattle Grace/Grey Sloan Memorial Hospital/ Seattle Grace-Mercy West
Where do we even start?
As one of the longest running shows on television, it makes sense that the hospital where most of the show is filmed has had more than a few set changes.
With numerous title changes as well as dozens of insane disasters taking place here -queue that bomb incident- this hospital has had to change on the regular.
A few of our main concerns:
How do hospital-goers know which wings are currently under construction?
Why is there no patient warning page that states all of the external risks that go along with attending this hospital for any reason?
Two words: emergency exits??
With that being said, there's quite a bit of current day healthcare marketing that Seattle Grace would greatly benefit from.
Type of Content:
3D renderings for wings under construction
Virtual tours that cover the entire hospital
Drone videography and 3D floor plans for navigation (specifically to locate exits during emergencies)
Some sort of PR, like "meet our surgeons" videos where Seattle Grace employees can inform people on why they should risk their lives to be treated at this hospital
5. Game of Thrones - King's Landing
Now, we had a lot of choices for GOT.
Why did we choose King's Landing, you ask? Well, because it's absolutely chaotic. Between the Dragon Pit, the Great Sept of Baelor, and of course, The Red Keep (just to name a few), it's actually baffling that any of the characters knew their way around.
And don't get us started on the architectural maze that is The Red Keep.
As far as property marketing goes, King's Landing definitely could have afforded the best technology real estate has to offer. Below we'll discuss tools (pre-explosion) that would make The Red Keep more than just the home of the Iron Throne.
Type of Content:
An extensive drone video of the entire city
3D floor plans of The Red Keep
Also, a site map of The Red Keep so people know what's occupied (the constant fleeting of characters makes it hard to track manually)
A virtual tour of every significant building or residence
An updated business listing for whenever there's an authority change
3D renderings after, ya know, that

explosion
6. The Office - Dunder Mifflin
Brought to you by TV's best boss, Michael Scott, Dunder Mifflin Paper company wasn't extravagant, but it sure was home.
Representing offices across the globe, this space was simple, yet functional. However, in 2020, this reputation wouldn't stand a chance in today's cut-throat real estate market.
Commercial real estate marketing as of right now is pretty big on networking as well as unique experiences - Dunder Mifflin provides the latter, but for completely different reasons- and because of that, we suggest content that sets this building apart from all the other paper manufacturers in suburban Pennsylvania.
Type of Content:
3D floor plans of the entire office + staging for unincorporated spaces
A virtual tour for navigation purposes (how do you get to the annex from the front door?)
Interior and exterior photography to show prospects where and what Dunder Mifflin is exactly
An optimized Google Business listing with all of that photography, updated contact information and of course, team photos to put a face behind all that paper
7. Stranger Things: Season 3 - Starcourt Mall
This 1980s-inspired mall in Hawkins, Indiana was a black hole of secrets.
A Russian spy experiment, secret tunnels, and an open portal to the Upside Down?
What kind of business is Starcourt trying to run..?
Property marketing for hospitality/commercial real estate typically focuses on visual mapping as well as a killer business listing. And if Starcourt ever wants to sell after that whole Soviet Union/alien debacle, it'll have to bring out the big guns (metaphorically, and possibly literally).
Type of Content:
In-depth floor plans that include secret hallways and spy-owned elevators
A drone video to identify all exits as well as surrounding areas great for hiding purposes
3D renderings + virtual staging for after a majority of the mall is destroyed by an alien
A business listing that includes a phone number "consumers" could've used when experiencing a crisis situation
8. Lost - The Island
Not a conventional residence, but a place where people lived nonetheless - the island in Lost was the definition of a labyrinth.
Neither the characters nor the audience had any clue how to effectively navigate the place, and even when we started to build a mapping system, people started seeing animated clouds of black smoke and polar bears that brought us all back to square one.
Not that the island is up for sale, per say, it could've used a lot of informative digital content during the span of the series to provide some much needed perspective.
Type of Content:
Google Street View so everyone knows where on earth this place is
A virtual tour of the beach turned sandy neighborhood (it's pretty impressive, no?)
Drone videography the beach-dwellers could have used to identify safe or dangerous parts of the island
An optimized Google My Business listing for the hatch, the radio tower, Hydra station, and every other significant area that could've used an address and a working phone number