Little Known Perks of Real Estate Drone Photography
by McKenna Hogan, on Mar 31, 2021 8:30:00 AM
Real estate drone photography doesn't quite receive the reputation it deserves.
Being the only tool of its kind, drone photography is the best way to capture unique aerial perspectives of your property—but that's not all.
Interested in adding real estate drone photography to your marketing collateral? Read below for six little known perks.
It helps prospects get to know the area better
Whether it's a commercial property, multifamily community, storage facility, etc., drone photography can help prospects get to know the local area a little better for all real estate industries.
Not only is this a nice perk, it's actually something current renters are looking for when searching for a real estate property.
In fact, the Multiple Listing Service has reported that properties featuring aerial images sell about 68 percent faster than do properties featuring only non-aerial photos.
This number makes sense when considering what consumers gravitate towards when renting. Below are just a few areas prospects might want to look at before signing any kind of lease.
Surrounding neighborhoods
Downtown areas
Local shops and restaurants
Highways
Amenities or extras
Sight-seeing locations
Parking lots
Exits
Loading docks
And these are just a few!
Drone photography can capture all of this, and more—which makes it great for informing renters without them ever having to leave home.
Unique perspectives can help with directions
Many of us are visual learners—especially when it comes to directions.
In addition to an actual map, drone photography can give prospects a better understanding of the local area, and even help with directions.
Perhaps your office is down the street from an apartment you're looking at, or you'd like to know which entrance to go through to get to a certain wing of a hospital. Aerial shots can be extremely informative when it comes to directions and planning.
And if there's construction going on around your property that's blocking off certain areas or streets, drone photography can help with that, too.
This can be especially useful if Google Street View isn't updated in a particular area.
Drone photography helps make sense of large properties
As mentioned above, drone photography is excellent for showing off surrounding areas—but let's not forget that it helps make sense of large properties or buildings that regular photography or video may not be able to capture.
Take shopping centers or industrial buildings for instance—drone photography can assist in mapping out different buildings, spaces, wings, etc., that don't make much sense to the naked eye.
Not to mention they can capture the property as a whole, which may help in leasing certain spaces in comparison to others.
Aerial footage aids in building interest
Some of the most breathtaking digital content can be seen through drone photography.
Here are just a few examples that increased interest in a way that regular photography isn't able to do: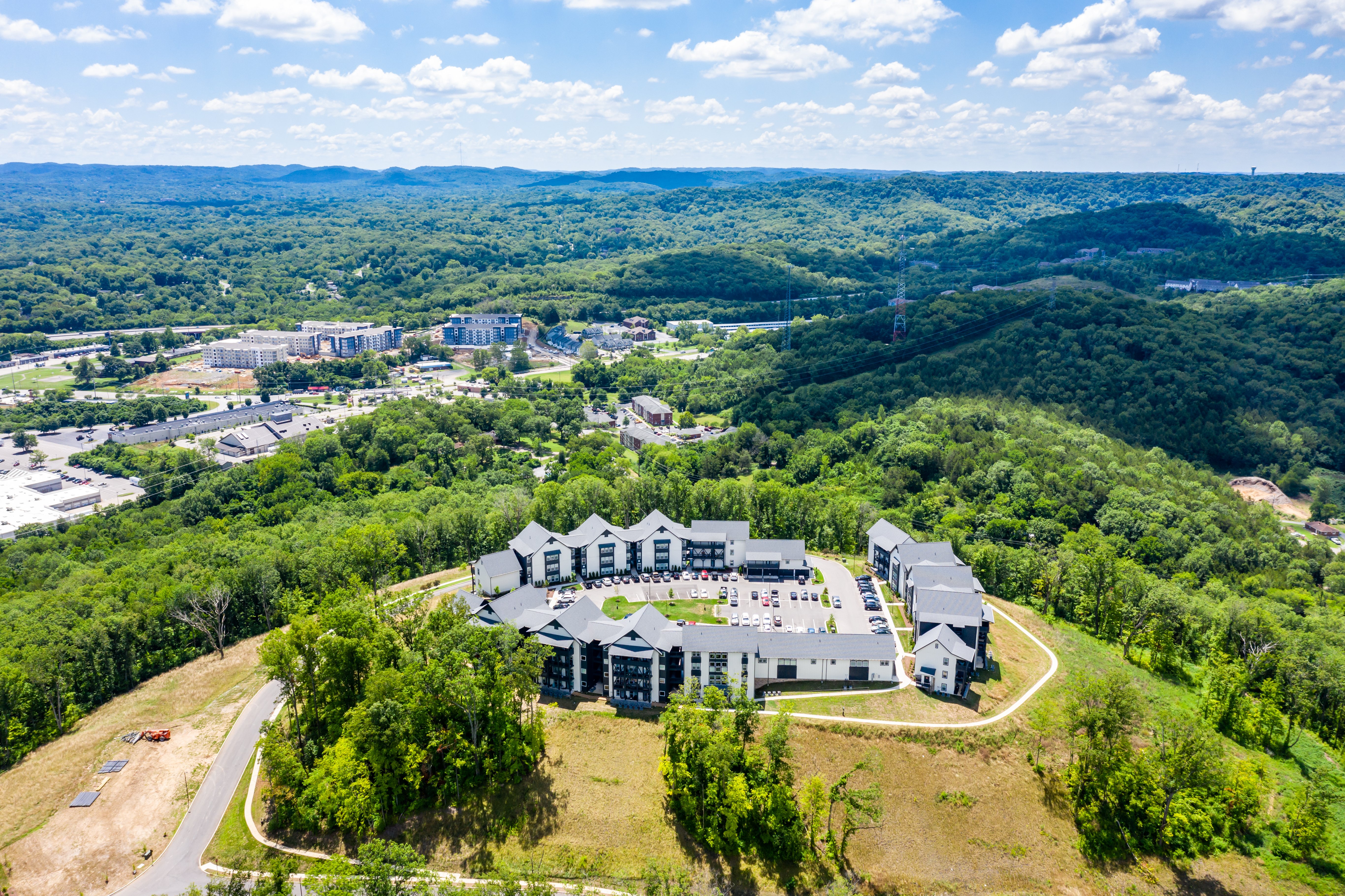 As you can see, the different perspectives you get with drone footage are unlike any other content. And adding this to your gallery will give prospects the entire picture of what you're offering, before even setting foot on site.
| Related: 6 Drone Marketing Tips for Real Estate Pros
Drone photography can help during construction
If your building is under construction or being renovated, adding drone photography to the mix can aid in showcasing the evolution of your property.
Drone photography is excellent for developments during the pre-leasing phase—especially since it may be the only way prospects can see or visualize a space while still being built.
Not only that, but it can also help construction ensure everything is looking how it should, even in hard to reach areas.
It's easy to market
Possibly one of the best perks of drone photography is the fact that it's so easy to market.
The dramatic, high-quality images that drones can capture not only build interest immensely, but they are known to convert, too.
This is because they are the perfect material for all digital platforms—social media, websites, ILS, business listings, and more. Basically, they sell themselves.
Additionally, according to Thumbtack, the national average cost of aerial photography is $250-$350, so ROI is pretty enviable.
Provide perspectives unlike any other
Consumers these days want to be wowed, and drone photography is perfect for the task. Between building interest, converting leads, and maximizing marketing, this tool can do it all—so get ahead of competition while you can.
Interested in learning more? Talk to us today!