These Apartment Virtual Tours Will Make You Rethink Your Leasing Strategy
by Kyna Garrett, on Aug 7, 2019 11:12:45 AM
Virtual tours for apartment homes are one of the latest trends in real estate. These digital experiences have changed the game for lease-ups, renting sight-unseen and marketing for multifamily as a whole.
Not to be confused with a video, an apartment virtual tour is an interactive tool for prospective residents. These interfaces allow renters to explore a community, walk the halls, navigate through amenities, and most importantly: tour model units. A full virtual tour experience, like the virtual apartment tours we build at LCP360, include a more diverse experience.
Renters not only get a 360 view allowing them to spin the screen and look around, they can browse photos, watch videos, click on hot spots to learn more, check out floor plans, view a site plan and so much more.
That's why apartment virtual tours have become the ultimate multifamily marketing tool. Virtual tours are ⁠— quite literally ⁠— bringing the touring experience to renters.
The Importance of Show, Don't Tell
They say a picture is worth a 1,000 words, right? Well, what do they say about virtual tours?
For years, apartments have relied heavily on describing their amenities or detailing the apartment's style in long text on website. But long, dense paragraphs are out. Interactive experiences... are in.
Giving prospective residents a tool that lets them drive their own experience says a lot more about what a community offers. It gives renters a sense of trust in your community while engaging them through interactivity.
Bridging Physical and Digital Worlds
Apartment virtual tours take customer engagement to a whole new level. Millennials and Generation Z make up majority of today's renters, and if there's one thing they want, it's more content-driven experiences.
The "phygital" approach to marketing offers multi-sensory content experiences that are memorable, meaningful, and impactful — ultimately leading to more move-ins and happier residents.
| Related: Multifamily Technology - Streamlining the Modern Apartment Search
To show you just how powerful apartment virtual tours can be, we've highlighted some of the most breathtaking experiences we've built for our own customers.
The Hepburn
The Hepburn, a Bozzuto community, is a luxury apartment in the heart of Washington, D.C. This classically modern community offers panoramic views from its rooftop.
While one of the more simpler tours (showcasing information, unit types, application calls-to-action and share buttons), the stunning photography gives prospects a true look into what it's like to live at this stunning D.C. community.
Click here to walk this beautiful community.
The Residences at 8 East Huron
Talk about gorgeous modern flare in the heart of Downtown Chicago. Just blocks from the Mag Mile, 8 East Huron is a stunning apartment community that features competitive amenities (rooftop pool, scenic fitness center, cardio studio and more) along with one- and two-bedroom apartments.
This specific apartment virtual tour, while pretty simple, brings all of the elements of this community to life through a digital platform - including a local map, share buttons, hot spot floor plans.
77 H
Virtual tours should tell a story, and that's exactly what this Bozzuto community does with their digital experience.
This tour includes video hot spots, unit types and floor plans, a location map and more. Prospective renters taking this apartment virtual tour will find unique hot spots throughout to give them insight into the units and amenities, helping answer their questions faster.
77 H is located in Washington, D.C. featuring a rooftop pool, fitness center and on-site retail.
Take the tour on their website.
Solis Decatur
Virtual tours don't have to be made up of photography either. If you have a development, you can create digital experiences like the one here for Solis Decatur in Atlanta, Georgia.
We all know lease-ups can be incredibly challenging, so 3D renderings built into a virtual tour will help prospective renters tour your community before it finishes constructions - thus meeting lease-up goals quicker and giving a truly memorable experiences to interested renters.
Solis Decatur is a Terwilliger Pappas community, now open and accepting move-ins.
Explore the 3D virtual tour here.
Bella Vista
There is no place like home than Bella Vista. This relaxing and inviting community features a scenic clubhouse, fitness center, spa, lap pool and more.
While this is a simple virtual tour, Bella Vista offers plenty of amenities and unique features that you can't go wrong with this kind of experience for renters.
CoLab
CoLab is a student housing community located in Denver, CO, bringing fun and flare to student living. What makes this virtual tour experience so unique is the ability to view model units both staged and unstaged (with virtual staging).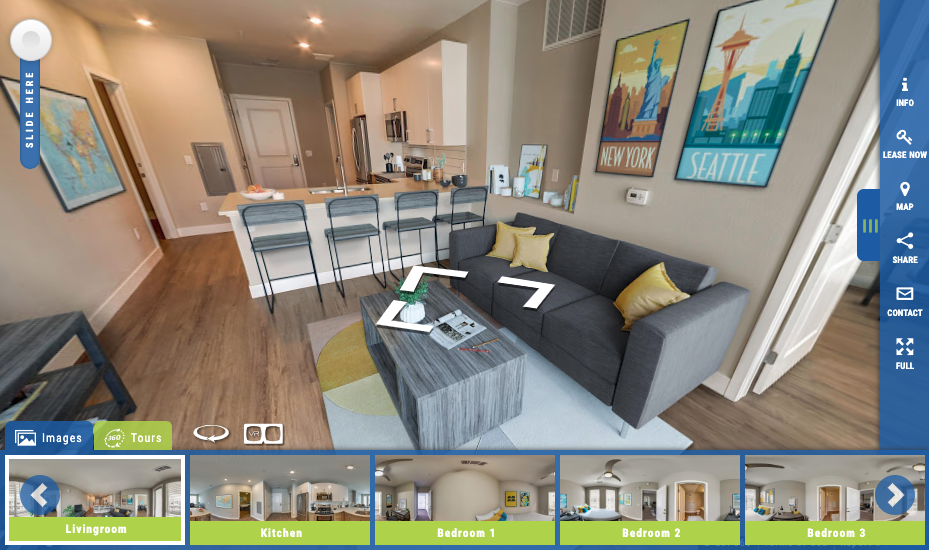 The slider bar in the top left corner can be toggled on and off to view the space both empty and with furniture. This does a number of things, especially for students. It helps them understand space perception, if their double bed or sectional will fit in the space and even give a personal touch to the model unit.
54 Magnolia
Last, but not least, 54 Magnolia, a Greystar community, leverages their virtual tour to give prospective renters a look at the local neighborhood, floor plans and amenities.
This tour leverages 3D floor plans, which gives renters even more insight into the layout of model units and their future home. 3D floor plans are not only captivating in these tours, but offer a unique birds-eye view into the space that a typical tour can't provide.
Take a tour through 54 Magnolia here.