5 Things You Can Do With a Virtual Tour from LCP360
by McKenna Hogan, on Jun 22, 2020 8:30:00 AM
As virtual tours single-handedly take over the real estate industry, it's important to understand all of their capabilities in order to maximize your results.
With Panoskin, there's an endless amount of possibilities. From high-quality content and a seamless user experience to customizable features, Panoskin is designed to deliver.
Below we've gathered a few unique ways we recommend using your tours that have proven to yield results.
About Panoskin virtual tours
Panoskin is LCP360's custom virtual tour software that's designed with advanced capabilities to engage and drive conversions.
Some features include:
Customization
Easy sharing and embedding
Analytics tracking
Virtual mirroring for guided tours
Includes photography (still photos)
Can display 3D renderings
Floor plan add-on options
Call-to-action links
Panoskin is a lightweight viewer that requires no programming or IT experience—all that is necessary is one simple code used to embed your virtual tour to your website. A step by step process can be found here.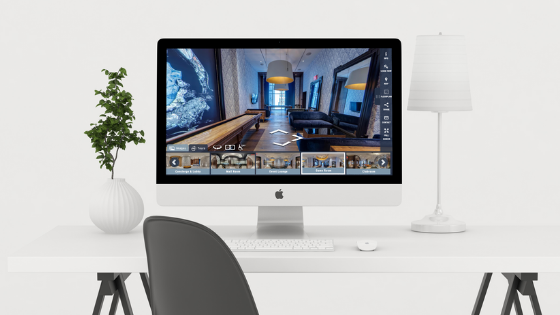 Below are 5 things you can do with a virtual tour from LCP360 to maximize your virtual leasing strategy.
Integrate your virtual tour with listing services
Internet listing services - or ILS systems - such as Zumper and Apartments.com, are becoming a go-to resource among modern day renters. For multifamily, listing properties on major rental marketplaces helps ease the renting process, bring more awareness, and generate more leads.
Like listing services, Panoskin aims to optimize the apartment search with a high-quality content experience. This makes this kind of integration perfect for engaging and converting future prospects.
Integrating your Panoskin virtual tour with various property systems will not only build visibility, but it will also increase lead generation as well as streamline the leasing process.
Panoskin is currently integrated with:
Zumper
Apartments.com
ROOM8
ApartmentSearch.com
Apartment List
And many more
If you only have a Panoskin tour and are not signed up with an ILS yet, our team will work with you to make sure your tours appear on listing sites that we integrate with.
Host a guided tour
In the era of COVID-19, in-person tours aren't as common. In fact, more Americans are looking for alternatives to in-person guided tours.
The challenge is that in-person tours are incredibly important. Without them, you lose that human element.
With Panoskin, that human element doesn't have to be lost.
Panoskin virtual tours allow you to host guided tours with a virtual mirroring feature. The team member giving the tour invites users by email and then guides the user through the property.
Guided tours on Panoskin can host up to 25 individuals with high resolution as well as smooth navigation (unlike some virtual tour alternatives, such as FaceTime tours) and will work on any computer or mobile device.
Embedding on Facebook
An excellent way to build visibility on your property listings is to embed your Panoskin virtual tour onto Facebook.
Facebook's Marketplace has consistently been a huge domain for rental searches since its fruition, and continues to be one of the top resources for renters.
If your Facebook page has 2,000 likes or more you can create custom tabs to embed virtual tours.
Instead of only providing images of your community on social media, add your Panoskin tours to give prospects an engaging and informative tool to help in the decision making process.
Learn how to embed your Panoskin tour to Facebook here.
Embed to your website
People spend 5-10x longer on websites that have embedded virtual tours.
In a case study looking at the effectiveness of Panoskin virtual tours on websites, we found that they increased page views by 31% as well as conversions by 20%.
"On average, this study found that Panoskin virtual tours improve engagement on the gallery page, reduce the initial need to schedule a tour, and ultimately lead to an increase in website form submissions."
In short, Panoskin virtual tours have proven to increase engagement as well as dwell-time when embedded to a website, and therefore increasing lead generation.
The easiest and best way to ensure prospects find your virtual tour is by placing it on the very first page they see when accessing your website—this could be in the top corner of the page, or under a gallery tab.
Learn how to embed your Panoskin tour to your website here.
Add Panoskin to a chatbot
In recent developments, chatbots have become a website staple in real estate.
Due to their ability to provide 24/7 assistance to prospects, they have managed to make the virtual leasing process easier for real estate professionals as well as more informative for renters.
If your website already has a chatbot, then integrating your virtual tour is just one more way to leverage your content.
By embedding virtual tours into your websites chatbot, you're able to increase visibility and accessibility to your tour. The best part about this process is how easy it is to integrate your Panoskin tour into a chatbot.
All it takes is our team whitelisting your chatbot domain, and your tour will be good to go.
Take a look at Veere Apartments integration below.
In this case, their tour is connected to CTAs to increase conversions and the sales process.
The best part about this tactic is the ability to customize both your chatbot and the way your virtual tour is presented in it. Either make your tour the first thing prospects see, or have it listed with other advanced digital tools for them to scroll through.
Panoskin tours are multidimensional tools designed to convert
Panoskin is unlike any other virtual tour solution. Not only is it easy to use, but it's also highly efficient in engaging converting leads.
In order to make the most of the switch to virtual tours as well as maximize marketing efforts, be sure to include these tactics for leveraging your Panoskin virtual tours.