Is Drone Photography Worth It? 4 Reasons to Add Drone to Your Marketing Efforts
by McKenna Hogan, on Jul 20, 2020 8:30:00 AM
Over the past decade, drones have been used for everything from entertainment all the way to work collateral, with a projected growth rate of 66.8% by 2023.
For real estate, however, aerial photography can act as an extremely effective lead generation and conversion tool for potential prospects—especially during the ongoing pandemic.
Interested in seeing if it's worth it? Read below for 4 reasons to add drone photography to your marketing efforts.
1. It's an effective addition to your COVID marketing strategy
In the era of COVID-19, in-person tours are mostly unavailable. And with many real estate industries transitioning to online efforts with virtual tours and video marketing, the interior of properties has pretty good coverage.
Although standard photography as well as 360s can capture the exterior, they don't necessarily provide the whole picture, so to speak.
Drone photography not only captures the actual building, but it also provides a view of areas such as outside amenities, parking lots, neighborhoods, landscapes, and much much more.
By integrating drone photography into your online marketing mix, you can provide renters with a complete and informative experience with your property.
2. Renters respond positively to drone photography
According to MLS statistics, homes with aerial images sold 68% faster than homes with standard images.
Why is this?
Well, one of the main reasons aerial footage resonates with renters of any industry is because of how unique the perspectives are that are captured from drones.
Whether it be an apartment community, a hospital, office building, etc., the ability to view where that building is situated provides important decision making information.
Not to mention it allows prospects to leverage solely digital resources as opposed to going to an open housing or in-person tour.
| Related: 10 Industries That Benefit from Drone Services
3. It's a worthy investment
Depending on how recently your property has been renovated or remodeled, drone photography can last for a decent amount of time—at least until any updates to your property are made.
This element is significant when planning out marketing budgets for the rest of the year.
Additionally, according to Thumbtack, the national average cost of aerial photography is $250-$350. Factors that contribute to this cost include how long a shoot takes, quality of the images, and how many images are taken.
Compared to other digital solutions, drone photography is not only a budget friendly investment, but one that will pay off in the long run as well.
Acting as the only tool that can hit those unique perspectives, there aren't any alternatives to aerial stills that provide the same result.
Not to mention the accessibility to drone photographers and videographers is more than ideal.
With drone pilots across the nation, commissioning a project is easy and hassle-free, so any updates needed are readily available.
4. It makes your property stand out
Renters are used to standard photography on website and property listings—that's expected.
What sparks interest, especially to the extremely visual millennials that are currently renting, is new and advanced ways of showing off a property.
Drone photography and videography has been rising in popularity over the past decade or so for many reasons. The main one, however, is the ability for drones to capture extensive and unique perspectives.
Whether for multifamily, retail, healthcare, etc., drones are able to get the entirety of a property in one shot.
Just take a look at the examples below:

Hospitality

Healthcare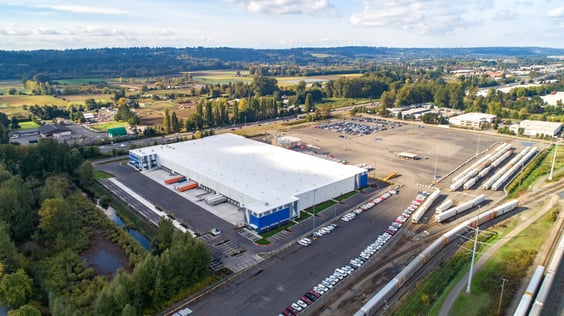 Commercial real estate

Senior living

Multifamily
Drone marketing keeps going to new heights
With in-person tours becoming a thing of the past mixed with the increased demand for aerial photography, fitting a drone photo shoot into your budget during the summer and fall months will definitely be worth the investment.
Spark interest, generate leads, and increase conversions with drone photography today.